The Yahoo! Login Page Creative Competition
Wizzletter
Inscrieri
28 Sep - 07 Nov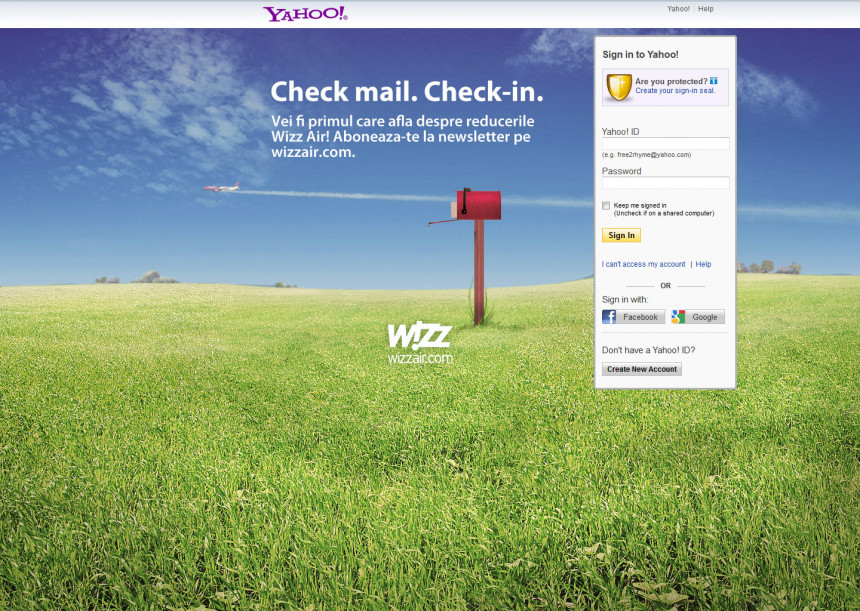 Lucrare creata de Bogdan Huma, Dragos Strat - Brandstalk
Subscribing to an airline newsletter can make the difference between learning about the best deals and paying the ticket's full price, between leaving for a trip and… staying home.

Actually, it happened more than once for us to miss the Wizz Air promotions and discounts, just because we were not subscribed to the newsletter. This, we couldn't get the information on time, so we stayed home a lot.

People should be more aware of these promotions. In order to solve this, we've linked the Wizz Air key message to Yahoo! email and we have chosen the newsletter to be the "product" to advertise. Furthermore, we have also used this hook to make people more aware of Wizz Air's best offers.

Voturi: 56
Votul s-a incheiat pentru lucrarile inscrise la editia The Yahoo! Login Page Creative Competition. S-a votat in perioada 09-11-2011 » 24-11-2011