Art Superstars Wanted by glo
GLOwing on the notes of freedom
Inscrieri
07 Jun - 26 Jun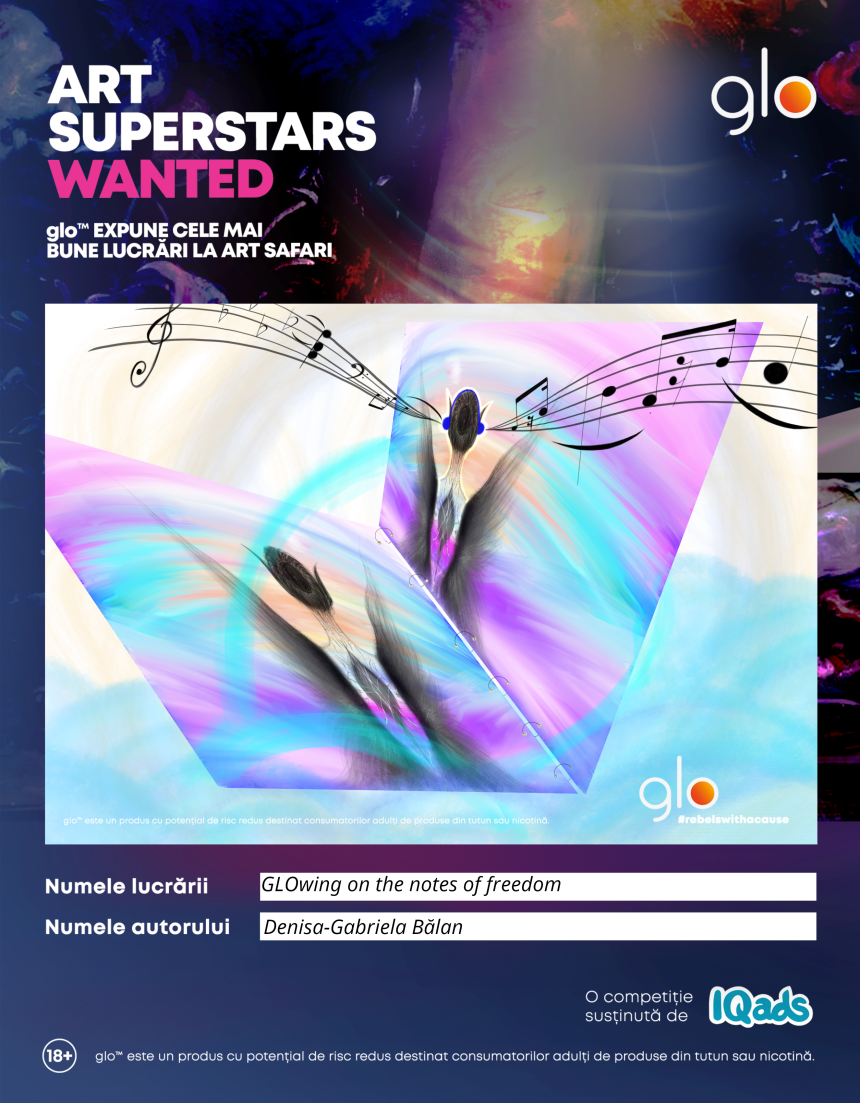 Lucrare creata de Denisa-Gabriela Bălan
Lucrarea 'GLOwing on the notes of freedom' este o trimitere catre fantezie, catre o lume libera de griji.
Simbolizeaza puterea muzicii asupra fiintei, cum putem straluci pe notele ei, cum putem pluti, sa fim usori, sa ne simtim in aer.
Lucrarea e gandita ca o interpretare intr-un mod modernist a clasicului, pe note subtiri, elegante, intrucat portativul cuprinde o parte din celebra 'Fantasy in F minor' a marelui muzician F. Chopin, subliinind atitudinea libertina fata de reguli pe un ton romantic. Lucrarea a imbinat acest lucru prin notele calde ale paletei de culori, prin plutirea intr-un vis al carui scop este re-gasirea de sine, a deveni puternic ghidat de inima si emotie, cum cele din urma ne dau aripi si apoi putem straluci.
Paginile trimit la evolutie, cu fiecare etapa din cartea vietii, devenim o versiune mai buna.
Privita ca o introspectie, lucrarea isi propune sa trimita fiecare individ in propriul univers, dar toate avand elementul comun, nota de natura pozitiva, de calm, de usor si simplu.
Voturi: 134
Votul s-a incheiat pentru lucrarile inscrise la editia Art Superstars Wanted by glo. S-a votat in perioada 07-06-2023 » 29-06-2023